Not a fan of turkey or just have a smaller gathering and a whole chicken would be a better fit?
Or do you just love Springer Mountain Farms chicken and want to make it the star of your holiday table?
You are not alone! A roasted chicken for your Thanksgiving dinner is perfect for a smaller crowd and also allows you more room on the table or buffet to showcase more side dishes and desserts. With the exception of dessert, we've got some tempting inspiration to get you ready for the food marathon that is Thanksgiving.
STARTERS & APPETIZERS
Get the meal started with the perfect fall, seasonal soup. Chef Mark Phillips has whipped up his creamy version of Chicken & Wild Rice Soup. It's packed full of veggies and has a delightfully toasty flavor thanks to the addition of wild rice. Want to make it a little heartier? Add mushrooms to the ingredient list and sauté them along with onions, carrots and celery. This recipe would be easy to make ahead for a quick meal before the holiday or reheated to serve for the big day. If making ahead, omit adding the rice in the cooking steps, and add hot, cooked rice to the soup once you've reheated it for serving.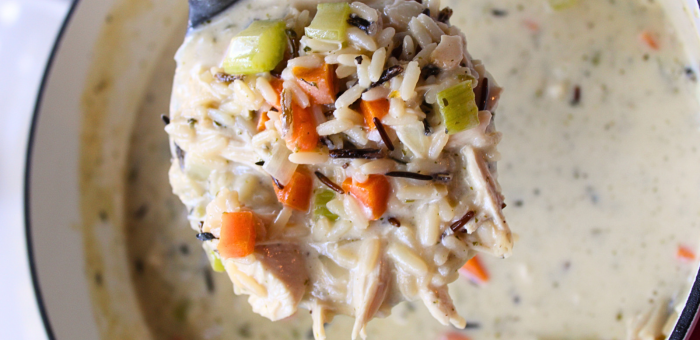 Or try these other tasty soups:
Need a few nibbles and snacks to feed the guests until the main meal is ready? Lots of options to choose from like this Greek Chicken Flatbread that is easy to put together with premade flatbread and Springer Mountain Farms Fresh Fully Cooked Grilled Chicken Breast Strips. If you are a fan of everything bagel, our air fryer recipe for Air Fried Everything Bagel Chicken Tenders is ready to serve in just 15 minutes and would pair perfectly with ranch or fresh herb dip. For a little fancier starting course, make plans to serve these individual Mini Chicken Pot Pies with Mushroom Gravy from Slice of Jess.
SIDE DISHES
Now let's talk sides! This cornbread dressing will finally end the debate about which is better...stuffing or dressing. One bite of our Chicken & Chorizo Jalapeno Cornbread Dressing and you really won't care which is better! (Plus we share how to use it as a stuffing too.)
Don't worry if the heat factor scares you a little. You can easily substitute a milder sausage and skip the jalapenos in the cornbread to take the spiciness down a few notches. Pairing this with your roasted chicken is a must, and just might have you considering carrying those Latin flavors over to the seasoning for your chicken too!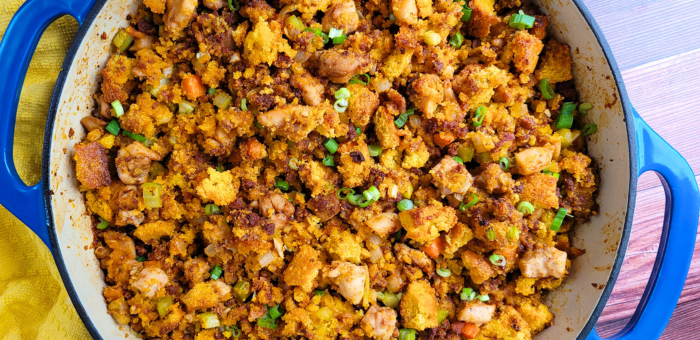 Looking for something a little more traditional for a side dish?
Chicken, Cranberry and Squash Stuffing from Chef Brian Carson
Yellow Squash Casserole with Shredded Chicken from Slice of Jess
Chicken Spinach and Artichoke Bake from Ansley at Tidal Tastes
MAIN COURSE
Springer Mountain Farms Whole Roasting Chickens are a great alternative to turkey if you want a whole roast, but don't need the larger sized bird. There's really nothing better than a whole roasted chicken with something as simple as roasted garlic and fresh herbs to season the chicken and highlight the delicious natural taste like this recipe for Roasted Chicken with Garlic & Herbs.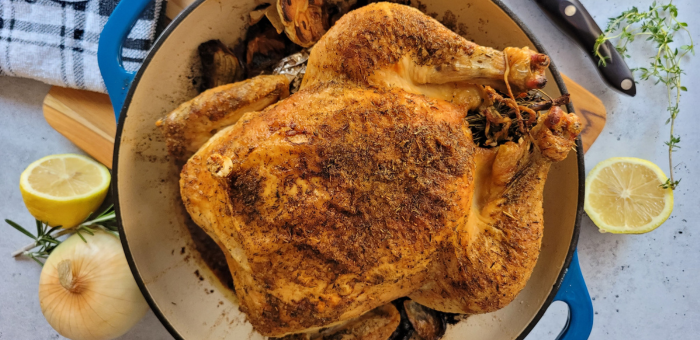 If you aren't really in the mood to mess with prepping and preparing a whole chicken, we've got several outstanding options that will wow your guests using cuts of chicken instead.
EXTRA HELP
All of these fantastic recipes have us ready for the holidays! We've got a Holiday Menu Planner to help you keep track of the big meal, who's bringing what dish and a shopping list.
Need extra help getting your kitchen ready for the holidays? Try these 10 Tips for Getting Your Kitchen Ready for the Holidays.